Userfeel vs.

Userbrain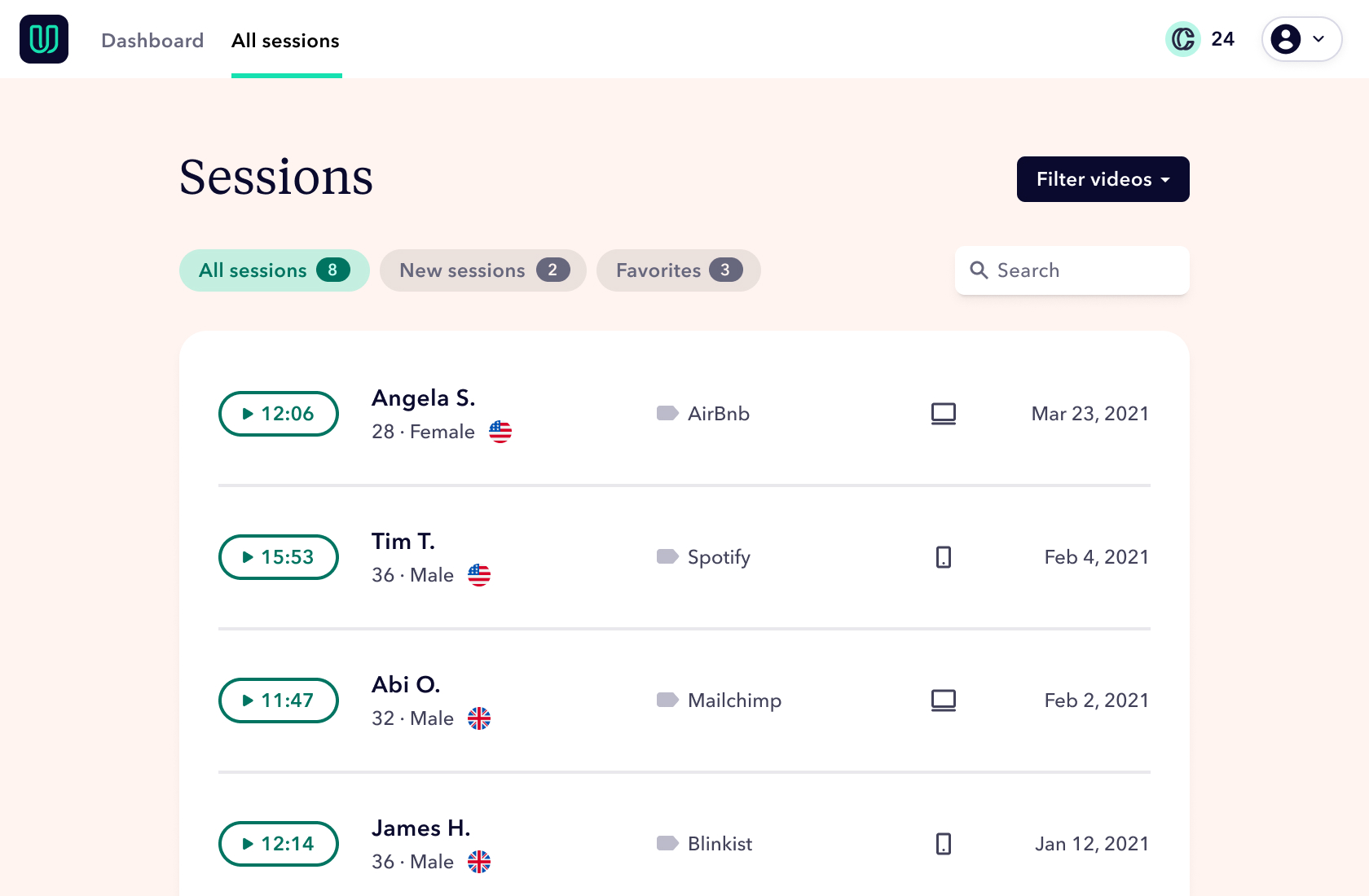 Choosing between Userfeel and Userbrain for your user testing needs? Our side-by-side comparison of Userfeel vs. Userbrain outlines 8 key differences to help you decide the platform that aligns best with your business:
---
100k+
Qualified Userbrain
testers
Companies already testing with Userbrain
1. Pay-as-you-go vs. subscription flexibility
Userfeel provides a pay-as-you-go model, enabling you to purchase individual tests without a subscription. Conversely, Userbrain offers both pay-as-you-go and subscription plans, presenting you with greater flexibility to select a plan aligning with your business needs.
2. Userbrain's focus on English, Spanish, and German testing
Userbrain provides high-quality user testing in English, catering to businesses primarily targeting English-speaking users. Headquartered in Austria (the heart of Europe!) Userbrain also has a large pool of Spanish-speaking and German-speaking testers, ensuring reliable and valuable insights.
3. Transparent pricing for both platforms
Userfeel and Userbrain offer transparent pricing, making costs clear. No hidden fees – you know exactly what you're paying for.
4. Comprehensive features for all Userbrain users
Userbrain provides all its features, including access to a global pool of testers and the ability to specify testers by device type, language, age, gender, and region, regardless of your subscription. Userfeel provides a variety of features too, but Userbrain's all-inclusive approach guarantees you have everything for unmoderated remote user tests.
5. Userbrain's AI Insights Feature
Userbrain's AI assistant enhances your testing process by discovering UX insights and generating time-stamped notes. This not only saves time but also includes all AI insights and notes in the report automatically, enriching your analysis.
6. Userbrain's efficient tester pool
While Userfeel has a large tester pool, Userbrain focuses on quality, maintaining a pool of over 100k+ qualified testers with an average rating of 4.4 out of 5. This ensures valuable insights from testers adept at providing actionable feedback.
7. Simple, efficient user testing with Userbrain
Userbrain focuses on simplicity with a clean interface for optimal user testing. While Userfeel offers a user-friendly platform, Userbrain's streamlined experience is appealing to those seeking efficiency.
8. Automation for regular user testing
Userbrain emphasizes frequent user testing, offering automated testing options with its subscription plans. This feature encourages user testing as a habit, without the need to schedule tests manually. Userfeel offers a powerful platform but doesn't emphasize automated testing as Userbrain does.
9. Userbrain's commitment to tester availability
Userbrain guarantees tester availability. If specific targeting criteria cannot be met, Userbrain won't offer those options, preventing time wastage waiting for unavailable testers. While Userfeel offers a large tester pool, Userbrain's transparency about tester availability stands out.
Both Userfeel and Userbrain have their strengths and unique features. With its focus on English language testing, comprehensive features for all users, efficient tester pool, AI insights, and a commitment to simplicity and automation, Userbrain is an attractive choice for businesses seeking a streamlined and efficient user testing experience.
Start your free trial with Userbrain and experience the difference for yourself. Still have some unanswered questions? Schedule a call with the Userbrain team.
Ready for your first
user test?
Get set up in minutes. Your first test is ready in a few hours.